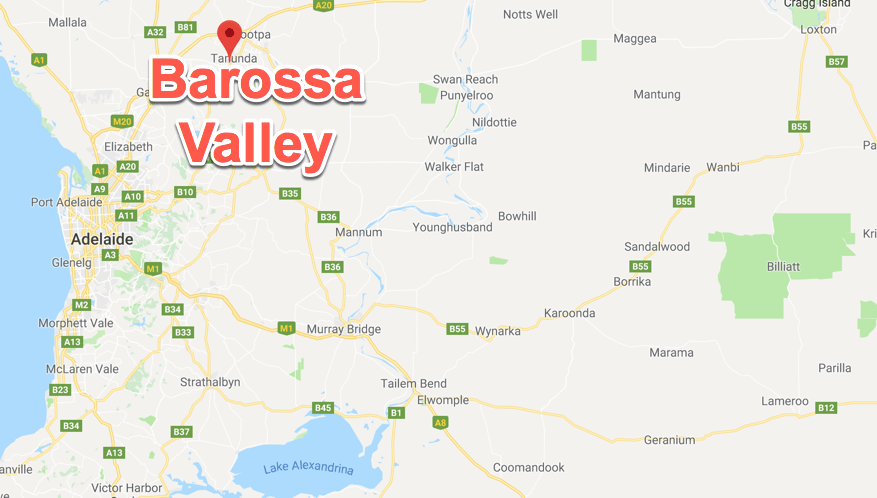 Nestled away on the Southeastern side of the continent is the Barossa Valley. Small by comparison to most of the more famous wine growing regions, the Barossa has been producing wine, red only, since 1985 which makes it a relative newcomer. However, this valley is not, as its name may imply in Italy. Nor is it in Europe at all. It is located in Australia which is now producing some excellent vintages. The climate here is warm with lower humidity but higher sunshine hours. This combined with the rich, clay soil is perfect for growing wine grapes and produces a smaller berry and a smaller yield which results in a higher concentration of juice. Harvesting is done at ripeness levels to give this wine a fresh flavor balanced with fruits.
For this vintage, considered one of the best, the winter rainfall combined with the soil to produce a long, excellent growing season. This was supported by a warm, dry summer resulting in strong, well rooted vines. These were harvested separately and fermented for up to seven days before racking and finally aging for twelve months in fine oak barrels. It is this attention to detail that has made this tiny valley a premier growing region.
The Valley, as I said, only produces red wine like Shiraz, Cabernet and Grenache Shiraz. Producers here feel this is a specialty with a niche to fill and they have done so very well.
Wine is meant to be a social drink, slightly alcoholic, but less harsh than say a bourbon. It is meant to be sipped or enjoyed with meals and savored. Nothing, it has been said, ages better than a good wine and this is no exception. Good friends actually gave me this bottle so it was new to me but in researching it I found it interesting. Drinking it though was a pure delight. A deep colored wine with good tannins and a pleasant bouquet gives way to a very satisfying, full, rich bodied taste. A slight hint of pepper makes this a good wine to enjoy with a more spicy dish or a stronger tasting cheese.
One note though. This particular wine is meant, as many wines are, to be opened and finished on the same day. I think because of the warm and dry climate and the concentrate of the fruit it does not "sit" very well. Also, Australian wines are very light on the sulfites, the preservatives in wine that will enable it to stay overnight and still taste fine the next day. Sulfites when used too heavily, can also produce a headache, different from a hangover, after only a couple of glasses.
Although wine is aged, that does not mean that it can stay for too long a time after the bottle is opened. Aging for 12 months in French oak barrels is long enough. This wine longs to break free and satisfy! Pair it with hearty meats such as beef ribs or stews and strong well aged cheeses.
As this region is relatively new, awards have been few. But the 2015 Shiraz, also known as Syrah by the way, was awarded a silver medal in 2017 in the International Wine Challenge and also a bronze medal by Decanter World Wine Awards in the same year.
I found this to be a good value on all levels at about $13 per bottle. Good food, good wine, good friends all make for an enjoyable evening. And this wine will be proudly served in my home for years to come.