Today I am going to venture into a relatively unknown country, both in general and also as a wine producing nation. The South American country of Chile, ("Chee-lay") is a relative mystery to most people here in the States. Settled by the Spanish after conquering the native tribes, the country has undergone changes in government and leadership throughout the years. This narrow strip of land along the western coast of South America shares its borders with Peru, Colombia and Argentina. It is very mountainous with several types of climate and is actually home to the driest non-polar desert, the Atacama Desert, in the world. But as you move south, the climate becomes more temperate, and at its southernmost a tundra.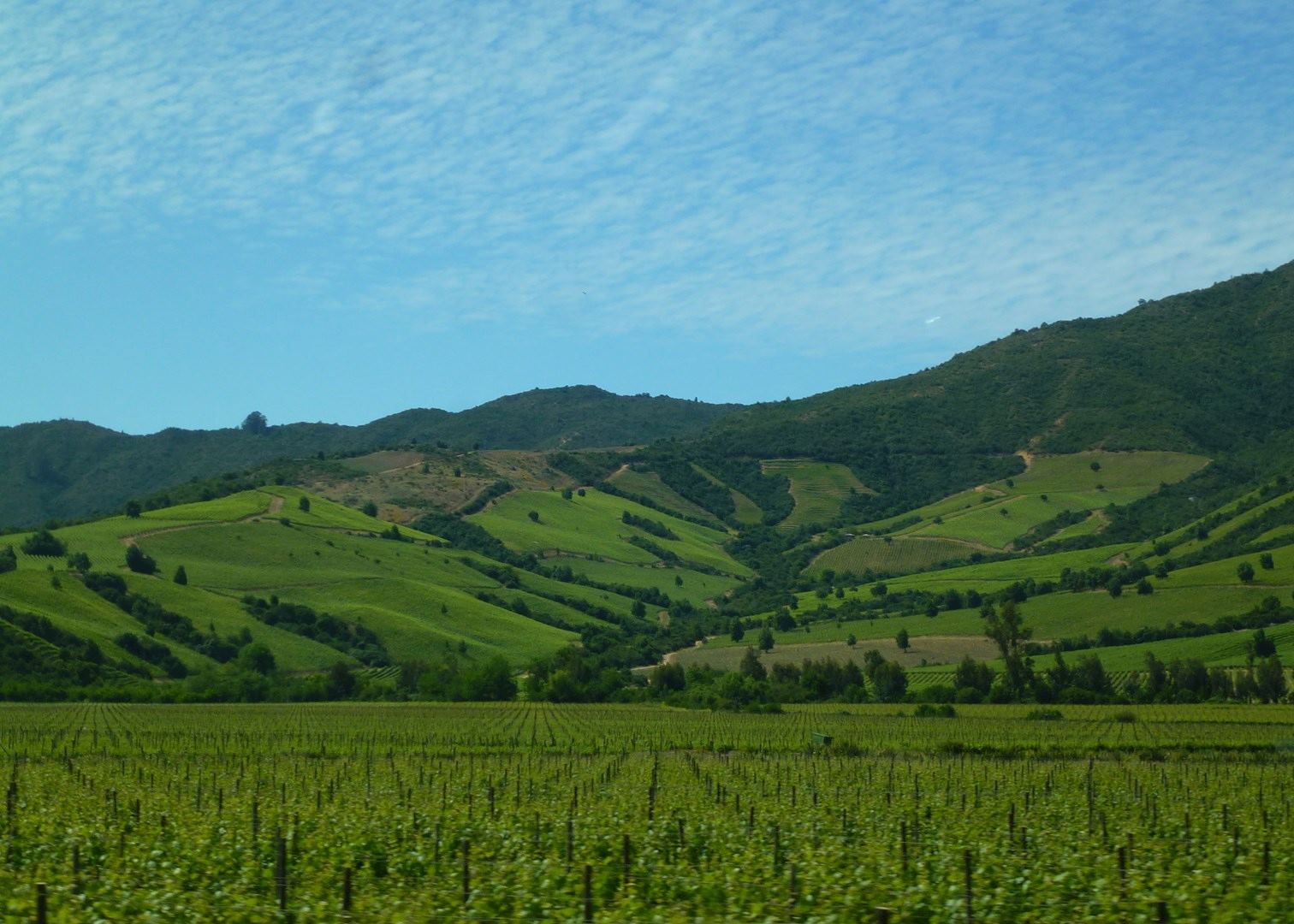 It was in the mid seventeenth century that the Eyzaguirre family left their home in Vizcaya, Spain to seek its fortune in the New World. They settled in Chile and became a well known and distinguished family, and in 1768, Domingo Eyzaguirre was appointed mayor of the capital city of Santiago. So as you can see, their social ascent was very rapid. His son, also named Domingo, planted the first vines there from French roots near a village which was built by Franciscan monks from a nearby monastery. At first, the wine was bottled in a "chuico" a 15 liter earthenware jug, and transported to the monastery. Later it was put into glass bottles. But the long trip by horse drawn carts caused a lot of breakage and so, the tradition of wrapping the bottles in burlap was begun by the monks to protect this precious cargo. This tradition is carried on today. In fact, it is the job of five women to hand wrap each bottle of wine produced. This winery was the first of its kind to employ women in this role. It was done, oddly enough, because men proved to be too clumsy, not delicate enough to handle such a task. Today, these five women wrap and sew each bottle by hand in the tradition of the founders.
The Eyzaguirre winery is very unique, totally sustainable, organic as well as vegan. No pesticides are used. Indigenous falcons and owls control any rodents, weeding is done only mechanically. Even the dirt roads are covered with grape stems to control dust and erosion. The combination of these and other efforts have earned the winery the distinction of being named "Certified Sustainable," the highest designation in Chile.
Grapes grown in this region, the Colchagua Valley, produce exceptionally high quality red wines. The warm, dry growing season matures the grapes quickly to produce a very robust wine made from a variety of Cabernet, Syrah, Malbec and Carmenere. All are excellent wines, but to my mind, the Cabernet really stands out in a very tough crowd. In the glass it is a deep burgundy with an aroma leaning to apples and raspberries. After about a two hour decanting, the aroma gives way to a very rich tasting drink, dry with a slight hint of pepper and a clean tasting of the grape. On the palate there is a hint of pepper, plum and red cherry. Slightly acidic with smooth tannins this wine is a perfect complement to beef ribs or a nice filet. It can also stand up very well to a porterhouse as well as some wild game and of course, chorizo and other Chilean dishes. In sampling this wine you have to remember from where it comes. Chileans are a very hearty people. The country is mountains and rocks on one side and the Pacific Ocean on the other. So life here is not for the faint of heart. Well, neither is the wine.
This wine was a find for me as I don't think I have ever sampled a wine from here. All in all I found it to be excellent from appearance to flavor. I guess it just goes to show that wine, like life, is an adventure and you should never be afraid to sample either. The world of wine has so much to offer from so many corners of the globe and it would be a shame to miss something. Be daring and go for the gold! While appearance does matter and does factor into a decision, the appearance of this bottle, wrapped in burlap make it unique, different. But it is no gimmick. It is tradition.
Alcohol – 13%
Price – (amazingly) about $11
This wine compares favorably to some at twice the price.
James Suckling rates this 90 points
As for me, I would give this wine an exceptional rating of 8.5 grapes out of an unattainable 10.