For this installment of my blog we need to have a frank discussion. It's Christmas, a season of love, happiness and joy for most and I just got to thinking about what makes it so. Oh sure there are memories, family, food (of course) and seasonal cheer but there is so much more. And that leads me to my point. Even though I am not a fan of modern day Hollywood and all of its satellites, the film industry has contributed so much to the holiday spirit in years past and that just adds to the mood. How many people can watch a movie like "Miracle on 34th Street" and not see the magic, the miracle transformation of cynicism to wonder. Classic. Watch the great James Stewart in the last scene of "It's a Wonderful Life" and I dare you not to shed a tear or watch Ralphie in "A Christmas Story" and I dare you not to laugh out loud. I double dog dare you! But I just read a list of what was supposed to be the greatest Christmas movies of all time and I nearly got sick. Please! "The Nightmare Before Christmas" is kind of (?) offbeat and an imaginative take, but a GREAT Christmas movie it is totally not. Only my opinion of course but it leads me to my topic which is THE GREATEST CHRISTMAS MOVIES OF ALL TIME which only the most astute of you will figure. And so, here they are, in no particular order except for my preference with apologies to any and all I may have left out, but deserve an honorable mention.
5 – The Shop Around the Corner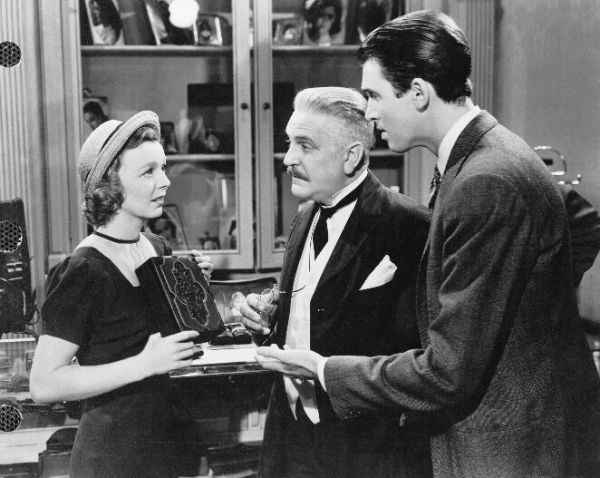 This classic from 1940 has it all when you think about the holiday season, and it stars James Stewart to boot! Set in Budapest, two lonely employees working in a small gift shop become pen pals while not realizing that they work in the same store and personally can't stand each other. Great acting by Frank Morgan as the store owner, Hugo Matuschek, who becomes ill right at the start of the season and becomes hospitalized, Margaret Sullivan as Klara Novak, Stewart's love interest, Joseph Schildkraut as a sleazy store clerk, eventually fired by Stewart, and the rest of the cast gives this film its classic rating. In the end, Stewart and Sullivan find their heart's romance and the rest of the cast goes home to a very happy Christmas dinner. Aaah, but the catch here is Frank Morgan's character who may have to spend Christmas alone. His solution, well, watch the movie and see how he gives someone the merriest Christmas ever had. Later remade as "You've Got Mail" with Tom Hanks and Meg Ryan.
4 – White Christmas
From 1954, Bing Crosby and Danny Kaye, two army buddies, team up as a song and dance act and travel to Vermont with Rosemary Clooney and Vera-Allen and try to save an Inn run by their former commander played by Dean Jagger. A series of romantic mix-ups follow along with great music by Irving Berlin with songs like "Sisters" and "Count Your Blessings Instead of Sheep" add to the charm of the movie. As an interesting aside though, the song "White Christmas" was introduced in a different movie also starring Der Bingle, "Holiday Inn" with Fred Astaire. The reason I picked this movie is for the spirit it gets across. Nothing, not even their love of women, gets in the way of Crosby and Kaye's determination to bail out their old Commander. Love, honor, and commitment highlight this great movie.
3 – A Christmas Carol
Here we have a lot to pick from. In 1938 it starred Reginald Owen as Scrooge whose story has been told over and over again. Later, in 1951 Alistair Sim played the role in my personally favorite version. But to introduce young children to this Dickens Classic, "Mr. Magoo's Christmas Carol" with Jim Backus as the voice of Scrooge is a masterful version. As the story opens, we meet Mr Scrooge, a detestable, sad and lonely old curmudgeon who has alienated himself from everyone and anyone who ever cared about him. Only his nephew, who Scrooge resents because his birth caused the death of his sister, has any use for him and tries in vain to bring him around. But Scrooge, consumed by his quest for money, shuns him, treats his clerk Bob Cratchett like dirt and chases carolers from his path, goes on his miserable way. But the story is told in a masterful way as he is made to see the error of his ways and just in time, he repents and in another Christmas miracle, becomes the man he actually hated at the beginning of the movie, a beneficent, kind and loving person who cares for all others above himself. Sounds like someone the season is really about, doesn't it?
2 – Love Actually
From 2003, this is actually about eight stories rolled into one with the basic premise of each character finding, sometimes very surprisingly, their one true love. Each person in the film has some kind of baggage from the death of Liam Neeson's wife, lonely Laura Linney's mentally ill brother and Hugh Grant's new role as the British Prime Minister with no social life just to mention a few. The movie has some very funny scenes as well as some which may bring you close to a lumped throat, but in the end, love is found by each, even a very young man's acute case of puppy love. And at Christmas time no less!
1 – It's a Wonderful Life
From 1946 James Stewart and the highly overlooked but very beautiful Donna Reed headline this movie with support from Lionel Barrymore as the most evil Scrooge-like character next to Scrooge himself. The underlying messages here really hit home at Christmas time, ranging from what would the world be without me to whenever a bell rings, an angel gets his wings. So many wishes and hopes are fulfilled in this movie and that is what makes it so perfect. This is a staple at Christmas time, as it should be as Stewart's character sees just how much he means to people and how he has contributed to their lives. His portrayal of the tortured George Bailey is so perfect, so on point and in the final scene so uplifting, and that is where you just may well up, as he realizes not only his worth, but the worth of Christmas, life and family. As an aside though, you have to note the characters played by Ward Bond, a cop and Frank Faylen, a cab driver, as the original Bert and Ernie!
Okay. There you have it. I only picked five movies so feel free to add others as you wish. My apologies to other films like "Home Alone," and millions of Hallmark Classic Movies, but these are really in a class by themselves. And so, Merry Christmas to all. And to all, a good night! Anne Marie. Do we have any egg nog?